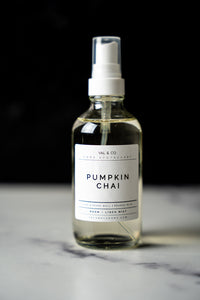 4oz Room + Linen Mist
Are you a pumpkin spice lover? This scent is for you! It is a perfect blend of sweet pumpkin, with spice clove. A huge hit for the Fall. It is infused with natural essential oils, including cedarwood, cumin, elemi, and orange.
Pumpkin | Cinnamon | Clove | Vanilla
How to use: Spray 2-3 times on the desired area. If you're spraying on carpet, linens, or fabric furniture, please patch test first. 
Where to use: Spray on your linens such as towels and bedsheets, your bedroom, and even in your car!
Ingredients: Alcohol, Water, Fragrance Glycerin, Propylene Glycol + Benzophenone-2
Pumpkin Chai Room + Linen Mist
Thank you! So glad you're loving it.