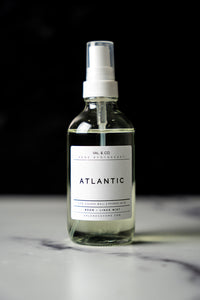 4oz Room + Linen Mist
If you're looking for a "masculine" scent, Atlantic it is! It is the perfect mix of sea salt, ozone, and cardamom. This scent will take you to a relaxing place quickly! It is infused with natural essential oils, including cardamom seed and clove leaf.
Sea Salt | Ozone | Cardamom | Amber | Dark Musk
How to use: Spray 2-3 times on the desired area. If you're spraying on carpet, linens, or fabric furniture, please patch test first. 
Where to use: Spray on your linens such as towels and bedsheets, your bedroom, and even in your car!
Ingredients: Alcohol, Water, Fragrance Glycerin, Propylene Glycol + Benzophenone-2
Amazing room spray for a family
Atlantic room & linen spray has an incredible fresh fragrance that helps us hide the smells our family
of 3 with a Toddler & dog need to hide..lol. I take with us on trips to keep any unexpected odors far away. The customer service is just as amazing as their products!