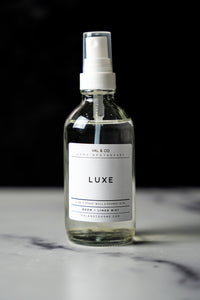 4oz Room + Linen Mist
This year-round scent is the perfect combination of sexy + luxury. The Shea butter brings in a subtly sweet smell, perfectly balanced with sandalwood. 

Sandalwood | Shea Butter | Vanilla 
How to use: 
Spray 2-3 times on the desired area. If you're spraying on carpet, linens, or fabric furniture, please patch test first. 
Where to use: Spray on your linens such as towels and bedsheets, your bedroom, and even in your car!
Ingredients: Alcohol, Water, Fragrance Glycerin, Propylene Glycol + Benzophenone-2