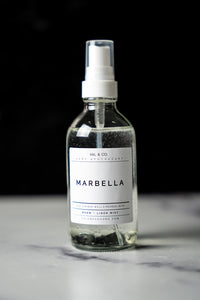 4oz Room + Linen Mist
This popular scent is a smooth and elegant blend of soft floral notes with salty highlights. This scent is infused with natural essential oils, including orange oil.
Sea Salt | Jasmine | Lily | Wood
How to use: Spray 2-3 times on the desired area. If you're spraying on carpet, linens, or fabric furniture, please patch test first. 
Where to use: Spray on your linens such as towels and bedsheets, your bedroom, and even in your car!
Ingredients: Alcohol, Water, Fragrance Glycerin, Propylene Glycol + Benzophenone-2
Marbella linen spray
My husband chose this scent for his linen spray. He is not one to me moved by a scent. This spray though, relaxes him, and helps him sleep. He actually used all of his spray before any other scent that we have in the house.