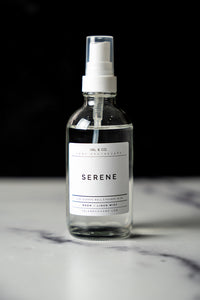 4oz Room + Linen Mist
If you're looking to relax, Serene is the scent for you! It's a perfect blend of Lavender and Sage.  This scent is infused with natural essential oils, including clove, lavandin, and cedarwood.
Lavender | Sage | Rosemary | Sandalwood
How to use: Spray 2-3 times on the desired area. If you're spraying on carpet, linens, or fabric furniture, please patch test first. 
Where to use: Spray on your linens such as towels and bedsheets, your bedroom, and even in your car!
Ingredients: Alcohol, Water, Fragrance Glycerin, Propylene Glycol + Benzophenone-2
Best Scent
This scent is so long-lasting and only a couple of sprays freshens up the entire house! It's super calming and smells amazing!
the perfect scent
My housemates and I bought this at a night market and it's the perfect scent for our home! So relaxing and everyone who visits us loves it.
Amazing
I love spraying Serene on our linens & around the house! The scent is very calming & long lasting!
happy mother in law
My daughter in law gave me a bottle of this heavenly scent!!! I love it. And the scent doesnt dissapate in 5 minutes. I spray my pillows at night and they still smell fresh in the morning when I wake. And what a great Christmas gift idea!