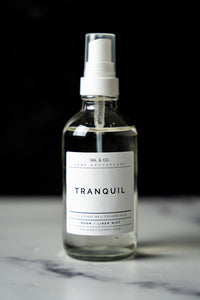 4oz Room + Linen Mist
This scent will make you feel like you're at a spa! It's a calming and balanced fragrance. It is infused with natural essential oils, including Lemongrass, Patchouli, and Lime. 
Lemongrass | Jasmine | Black Currant | Patchouli | Lime
How to use: Spray 2-3 times on the desired area. If you're spraying on carpet, linens, or fabric furniture, please patch test first. 
Where to use: Spray on your linens such as towels and bedsheets, your bedroom, and even in your car!
Ingredients: Alcohol, Water, Fragrance Glycerin, Propylene Glycol + Benzophenone-2
Tranquility at its Finest ❣️
Every night I mist my pillow and float off to sleep! I'm hooked by the relaxing feeling that sways me to sleep.